Naturally Sourced. Handcrafted. Vegan. Made With Love!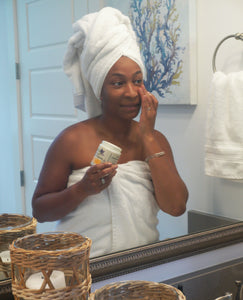 It's All About You!
Established in 2019, we're a small company located in Atlanta, GA that is dedicated to making that soothing shower, or bath, a lot more enjoyable. We use 100% Vegan, Organic, and All Natural ingredients to make skin care products that your skin will LOVE to feel and your nose will LOVE to smell.
Testimonials
"I've never experienced anything that can moisturize your skin so well it makes people jealous. Great product that smells unreal."

Robert B. on our Mango Guava Body Butter
"Leaves my skin super soft and helped tons with the kp problem on my arms. Love it!"

Andrea E. on our Tea Tree Trio Soap
"I ordered 5 different soaps and each of them smell awesome! They lather perfectly and they leave you feeling invigorated and most importantly clean!"

Shanay P.
"The way on day 2 i noticed a difference in my skin in the best way possible 🤩🤩 i'm in love with my results and how quickly it lathers. i'll be back for more"

Camille C. on our Watermelon Lemonade Soap
"Love everything about these products from the packaging to the wonderful smell before opening. The butter is so smooth and a little goes a long way! Every time I walk past the soap, I just feel like it's bath time! Relaxation on my mind! Recommend Highly!"

Stephanie D.
Subscribe to our newsletter
Be the first to know about new products, collections, deals and more! No more than 2 emails a month; unsubscribe at any time!